Earlier this year, I spent 3 months living in the cultural heart of southeast Asia in Chiang Mai, Thailand.

During my time there, my fondest memories of the area will perhaps be of the food! Hands down, food is the best way to get to know a different culture and the food of Thailand is rightfully famous!

The cuisine itself is founded in fresh flavors like lemongrass, Thai basil, peanuts, coconut, ginger, and many other fresh herbs, fruits, and veggies. It is very easy to get around Southeast Asia as a vegetarian or vegan (though I myself am omnivorous--I'll eat anything!)

Most Thai food is designed to be seasoned by the eater's particular palate. You'll find condiments that balance flavors of sweet, sour, bitter, salty, and umami, and of course spice--usually in the form of sauces and pastes.

Most dishes are typically served with white rice, sticky rice, or some form of delicious noodle.

For dessert, a fresh Thai coconut ice cream or perfectly ripe mango and black sticky rice cannot be beat. Heaven!

Keep scrolling down for more ways to enjoy food on your vacations, with a spotlight on Thailand--an excellent destination for dipping your toes (or your spring rolls) into Southeast Asia (or your dipping sauce). If you fell in love with Thailand before, then you'll surely want to return so you can eat more Thai food!
Class is in session! But this time, you'll actually want to go to "school." You see, I had the pleasure to visit the family-run Basil Cookery, located within "Old City" in Chiang Mai, a 1-square mile ancient walled city, surrounded by a moat with an entrance gate on each side.

While I don't fancy myself much of a cook, I always find that cooking classes are a fun way to learn how to prepare foods from a different cuisine!

They are an opportunity for people of most skill levels to whip up some seriously-tasty dishes. As a bonus, cooking classes typically include a walking tour of a local market.

Generally speaking, cooking classes will have most of the preparation ready for you while tasking you with some easy project like chopping, slicing, and dicing. Then you'll get cooking on the stovetops and cook up a feast. Best of all, they will clean up the messy dishes for you!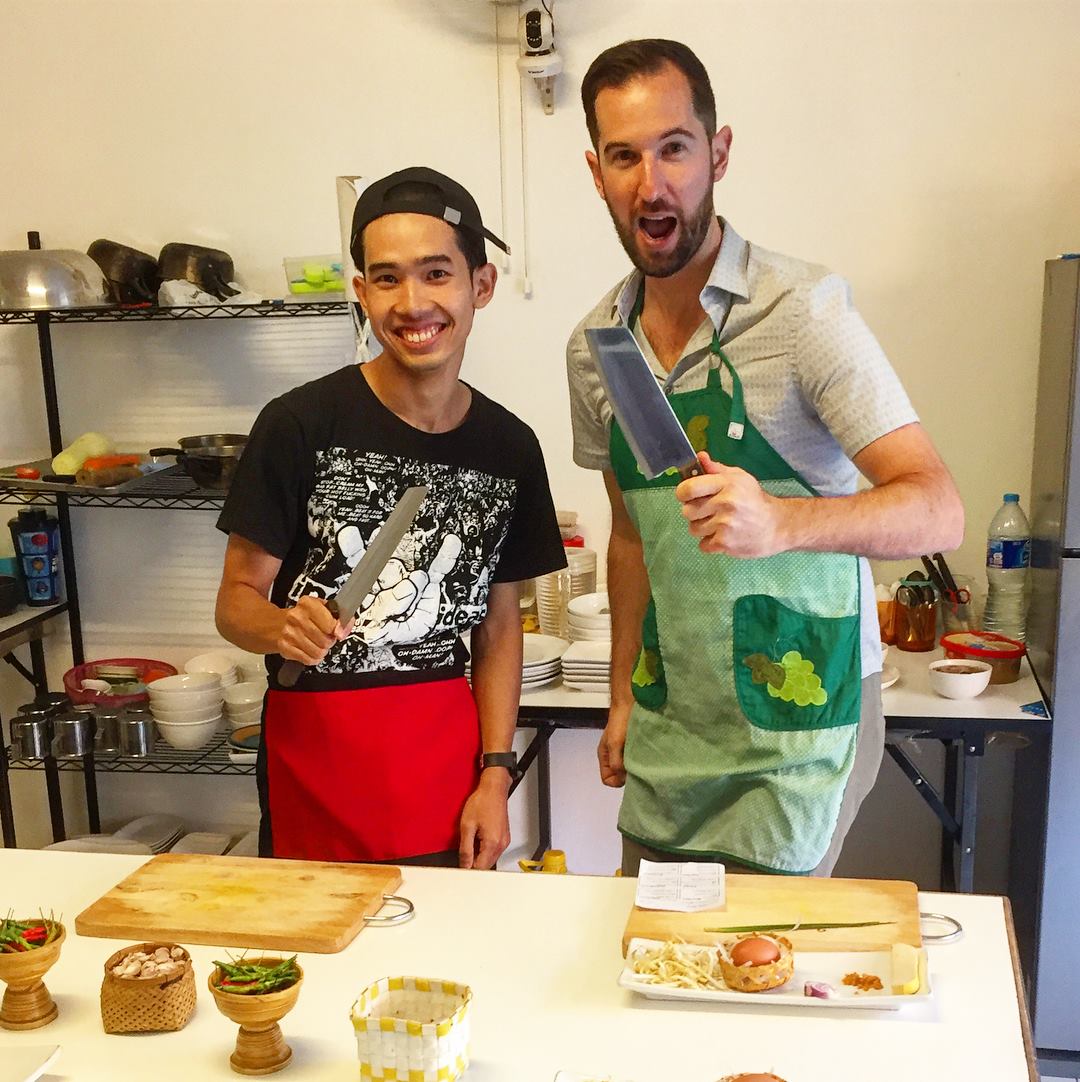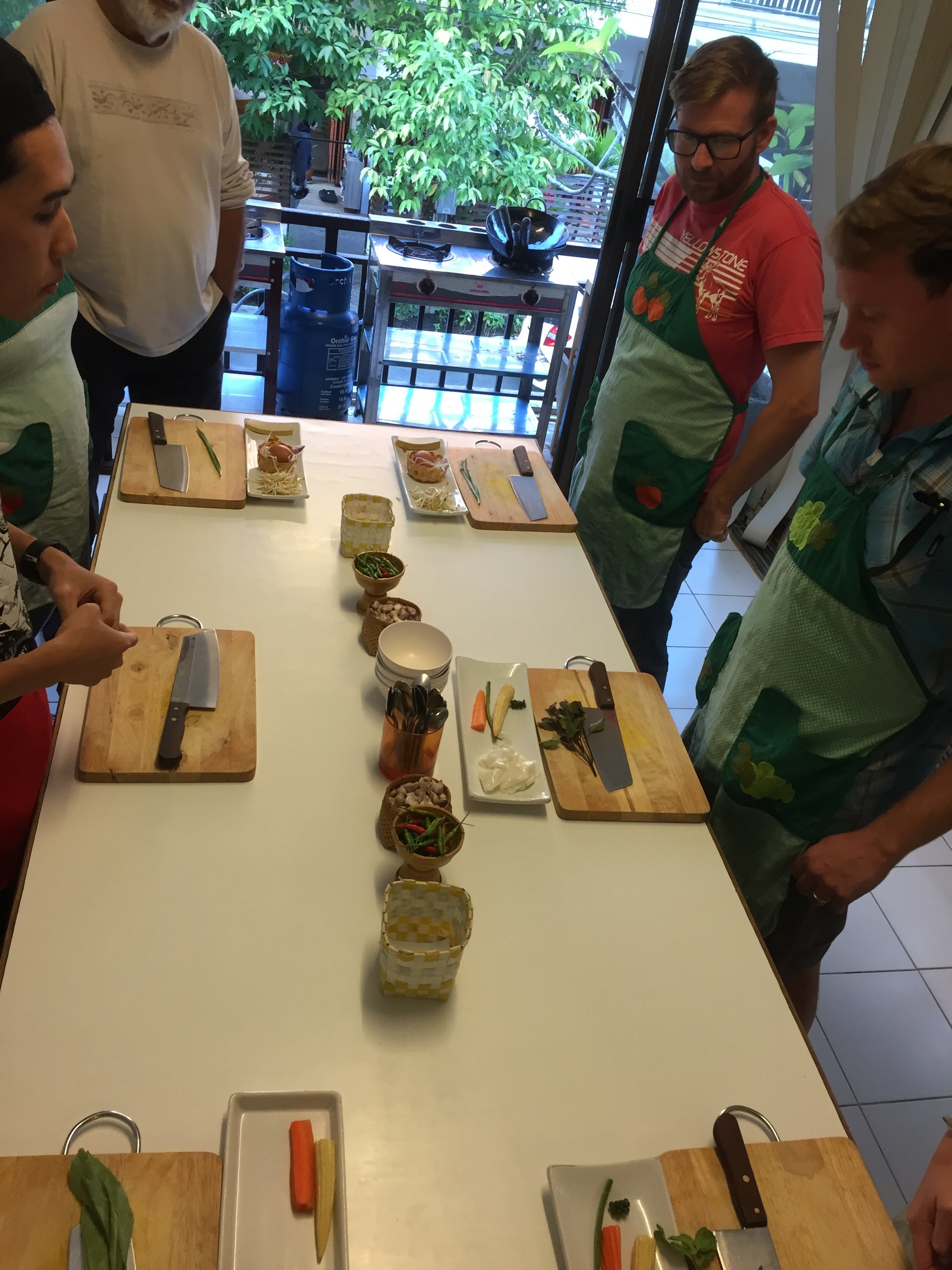 The amazing Khun Saiyuud Diwong (or "Poo" for short) pooped popped into Jamie Oliver's kitchen and she's got a classic Pad Thai recipe to share with you. Fresh juicy prawns stir fried with tofu, crunchy veg and egg fried rice noodles. Served with a wedge of lime, chili powder and crushed peanuts – better than any takeaway and cheaper! I'm enchanted by Poo's fun energy in the kitchen and how easy she makes Thai cooking.

And in case you were wondering, Poo is a Thai "celebrity chef" as we would say in the West!
Street food is perhaps my favorite type of Thai food. A full meal might run between
50-300 Thai Baht (THB) (US $2-5), but is full of flavor and prepared and eaten as the true locals do! Don't expect much more than plastic tables and chairs, chopsticks and spoons (and, of course, eating while walking or standing is perfectly acceptable). Honestly, most Thai foods are acceptable to eat by hand.

Street snacks, like mango sticky rice, coconut ice cream, and kao mao (small bananas rolled in coconut and fried in oil) generally run between 15-100 THB (US $.50-3).

My general rule is, if it looks good and smells good, you should put it in your mouth!

Thailand has earned a reputation as a safe place to enjoy and consume most street foods, though you should still use plenty of common sense:
Only consume bottled water
Visually-confirm food is freshly-prepared and cooked
Fruits and veggies should be freshly washed
Make sure cook is wearing footwear, at least (no bare feet!)
Visual cues: flies, animals, or garbage? Take a hard pass.

If there's a line of locals and I am smacked by an intoxicantly-warm cloud of roasted meats, steaming mounds of rice, and perfectly-stir-fried shrimp--I am so totally in! These are the situations in which my Google Translate app and pointing are often most effective.
 
While on the one hand, I am an enthusiastic eater of street food; on the other, spending my time staring into a toilet bowl isn't the travel view I'm going for. For this reason, I always join a street food tour when I land somewhere new. I appreciate the freedom and peace-of-mind that comes from knowing you're with an expert guide who knows all the good food stalls and locals-only gems!

Your guide can also make recommendations of food stalls or even interesting bars to check out later.

You can also pick up small bags of treats for your trip, like dried papaya, banana, and mango; roasted nuts; and a whole bunch of other tasty treats and snacks. A fresh-fruit smoothie for THB 50 (US $1.66), with pineapple, mango, banana, or watermelon, is always refreshing on a sweltering day in southeast Asia.

Tip: pack hand-sanitizing wipes because they will keep your hands clean on-the-go and won't count against your liquids allowance in your carry-on. I've also been known to use them to freshen up if I have a red-eye flight, outdoor camping, or an overnight bus! #ConfessionsOfATravelNerd
Set on the grounds of the former British consulate in the center of the ancient capital, the Anantara Chiang Mai Resort is firmly rooted in the 21st century with clean lines, polished woods and plenty of glass. Carefully chosen artifacts accent the 84 modernly minimal rooms; ask for a suite overlooking the tranquil Mae Ping River. The colonial consulate building now houses Service 1921, a pan-Asian restaurant serving up modern takes on traditional Thai cuisine, with a focus on craft cocktails in a unique spy- and diplomatic-themed atmosphere.
Sure, you could book this on your own. But if you book through a Virtuoso-affiliated agency--such as IntroverTravels--you'll also receive:
Upgrade on arrival (subject to availability)
Daily breakfast for two
Early check-in/late check-out (subject to availability)
A special welcome gift valued at $100 (I'm not spoiling the surprise!)
If you have any questions about Thailand, culinary tourism, or any other trip, fill out a trip inquiry!

Until then,
Keep exploring...